Cross-connection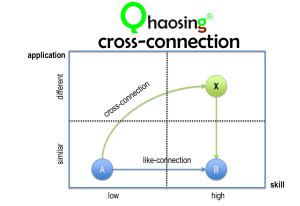 You can learn new things in different ways. Not all the learning methodologies are the same. One methodology differs from another with regards to the capability to create permanent change. Unfortunately the school where we have been educated manages education at the rational level, but this is not the way human beings are wired. The cross-connection methodology patented by Qhaosing is based on the combination of the social cooperative and competive environment created by Qhaosing. What Qhaosing creates along the transformational path is a "system/environment" where individuas can rapidly evolve from the status "A" to the status "B". And the lessons learned along the path will remain for ever.  The methodology is proven working. If you want to know more, please contact us !
Share your thoughts and leave a comment!
Inspiring sentence
However good or bad a situation is, it will change.