Intrapreneurs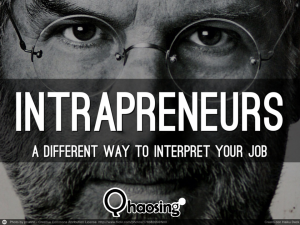 Intrapreneurs
Are you part of a big corporation and feel that your potential is undervalued? Do you feel that the 8 hours spent at work are not making you fulfilled ? Are you dreaming of transforming your work from something routinary to a series of activities that allows you to express your creativity and your hidden resurces?
In this case, please contact us ! Qhaosing is the new change and innovation management methodology that is helping big corporations to shape the next Intrapreneurs.
Its methodology, origined from the book "Qhaosing", is based on the "cross-connection" methodology. Through the application of an intensive transformation program, participants will enjoy the application of the cross-connection techniques to evolve rapidly along the innovation road.
Inspiring sentence
However good or bad a situation is, it will change.